Hey there, lovely readers!
It's a long weekend this weekend, a rare gift that makes life a little more magical. They're like mini-vacations, a breath of fresh air amidst our busy lives. These precious extra days allow us to break free from our routines, explore new adventures, and rejuvenate our souls. This long weekend is all about celebrating the King – not that we do this formally or anything in our house, but we do appreciate the extra day to spend as a family.
So, how will you make the most of this long weekend? Will you escape to the beach, embark on a hike, or simply spend quality time with loved ones? The possibilities are endless!
Many years ago, when my daughter was a toddler, we were invited to a friend's house for a Queen's Birthday party. Her kids were much older, so they set about making a cake, bringing out the fine china, and creating a space in the day for family and friends to come together to enjoy cake and create memories. This was a standing tradition that they had done for years. A few years later, on a wet long Queen's Birthday weekend with kids stuck inside, I decided to keep the kids busy by getting them baking and setting up a high tea to celebrate the queen. This was the start of a wonderful family tradition: a casual and cozy High Tea Party at home to mark this special occasion!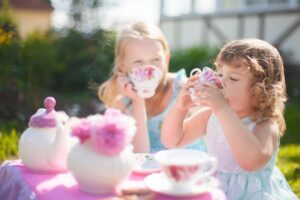 At Love Your Tribe, we firmly believe in the power of family traditions and the memories they create. So, what better way to celebrate King's Birthday weekend than by gathering our loved ones for an enchanting afternoon tea right in the comfort of our own home?
Imagine this: a beautifully set table with a mix of charming china, a delectable spread of treats, and an atmosphere filled with laughter and joy. From mouthwatering scones to finger sandwiches bursting with flavor, and a wide selection of teas to suit everyone's taste, this celebration promises to be a feast for the senses. Get the kids involved in creating paper crowns and finding costumes in their dress-up box to add a little more magic.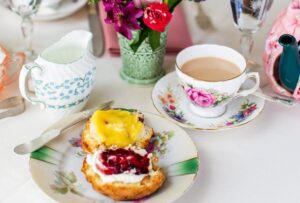 But it's not just about the food and drinks; it's about the cherished moments we'll create together. Our High Tea Party will be a time to reconnect with each other, share stories, and enjoy heartfelt conversations. These are the moments that warm our hearts and create memories that will be treasured for years to come.
Now that the kids are older, there are no longer kids sitting at the table dressed as Fancy Nancy, a knight, a superhero, or whatever their hearts desire. But we do have kids that come together to help bake cookies or cupcakes, set the table, and sit for some good laughs – a moment in time that we can spend together as a family.
So why not start a new family tradition with your little ones and have a high tea party this King's Birthday weekend?